$149.99 CAD
Estimated Delivery 12/13 - 12/15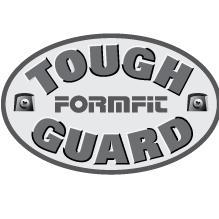 Features
Tough Guard hood protectors are designed with materials selected to compliment the existing features of your pickup truck or Jeep. The riveted design of these hood bug deflectors draw their inspiration from the appearance of the aggressively styled bolt-on pocket fender flares.
Tough Guard Hood Guards are aesthetically pleasing while providing protection to your vehicle's hood.
• Satin black swirl textured look: won't chalk or fade over time
• Includes 3M Automotive tape, patented mounting clips and stainless steel fasteners for installation; 30-minute installation
• OEM quality design rests on the mounting hardware
• No contact between the deflector and the hood
• No drill installation
Focus Auto Design Inc. was the proud recipient of a 2018 SEMA Global Media Award at this years SEMA show in Las Vegas.
Our Jeep Tough Formfit Guard was recognized out of 3000 product entries to take home this prestigious award. We would like to thank everyone that has been involved in our recently developed product line and to the judges that voted for this unique and innovative hood protector.
The SEMA Global Media Awards Program recognizes those companies that manufacture specialty equipment products and accessories that would have mass appeal to consumers in countries outside the United States. The products are voted on by a prestigious group of international journalists who serve as judges.
This year's program included 30 judges from 19 countries. Each judge carefully reviewed and evaluated nearly 3,000 product entries at the SEMA Show before selecting the products that they felt would resonate and appeal most to consumers in their home countries!